Suspended Ceiling and Steel Stud Framing Systems from Rondo
KEY-LOCK® Range, Plasterboard/Fibre Cement Flush Ceiling Systems, Masonry Wall Systems, Ceiling Battens
Rondo specialises in providing ceiling and wall design and is a leader in the design and manufacture of:;
Steel Stud and Track
Exposed and Concealed Suspended Ceiling Systems
Dry Wall Finishing Sections and Access Panels
Rondo DUO® Two-Way Exposed Suspended Ceiling Grid Systems
Engineer designed locking tabs on each cross tee, which can be easily removed from an installed ceiling without damage and then reinstalled at another location.
Slim, box type suspension head on both main and cross tees
Strong and exclusively designed "zipper" packaging for all standard main and cross tees
Tile-white exposed face colour with compliments the vast majority of standard ceiling panel colours
Specifically designed wall angle and stabilizer clips
Rondo KEY-LOCK® Concealed Suspended Ceiling Systems
Versatile ceiling suspension system, giving the designer/architect many options in the design for a flush building board ceiling finish.
Specifically designed locking and suspension clips simplify the assembly of components
Mid-span joiners for both primary rail and furring channel sections eliminates waste, and speeds up erection time
A range of furring channels, battens and primary rails allows for variable spanning and spacing options
Rondo Steel Stud Framing Systems Installation
The profile design of the steel studs has been tested to give maximum performance when installed.
Rondo manufacturers a range of studs/tracks/noggings in various widths, lengths and material gauges
Rondo QUIET STUD® drywall sound insulation system provides an effective acoustic control solution for inter-tenancy walls
Rondo Framing Systems come in convenient stock-pack and sub-pack quantities for ease of handling and storage.
KEY-LOCK Concealed Suspended Ceiling System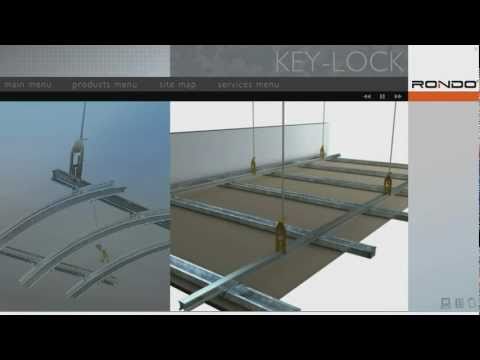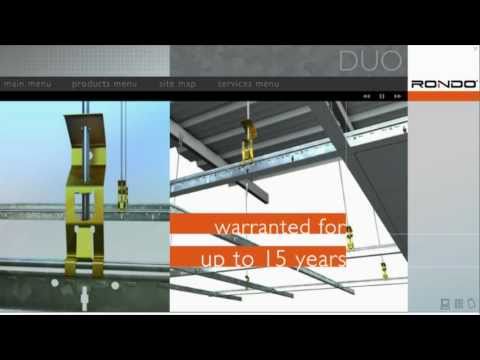 Contact Rondo
57-87 Lockwood Road
Erskine
NSW 2759